November 28, 2022
Welcome Newly Elected Board Members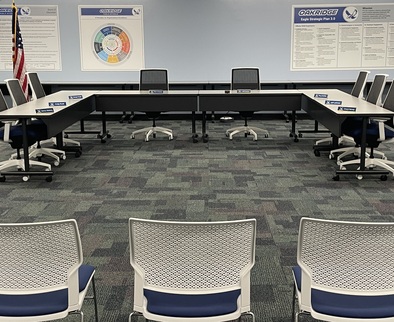 The November 2022 election has been certified! Please join me in officially congratulating George Tindall and Brandon VanDonkelaar for being elected to the Oakridge Public Schools Board of Education. They will both begin a six year term starting January 1, 2023. I am so thankful to work for a school board who demonstrates civility and collaboration even during times when deliberating on difficult topics. They have modeled our district PBIS theme through being respectful, responsible, and safe. Serving on the school board has been extraordinarily challenging during worldwide pandemics, financially challenging times, and the occasional hot topic that arises in the community. I'm confident the Board's focus will continue to be on 'service above self' and what best serves our students' needs.
A little background on our newly elected officials:
George Tindall was an incumbent and will soon begin his second six year term on the Board. He is a hardworking father of six with four kids already graduated and two kids still attending Oakridge. He has been married to wife, Teresa, for 29 years. He is an Eagle Scout and still helps run local Scout Troop 1006. He is involved in the Knights of Columbus and his local Church. George said, "I will continue to serve with a collaborative mindset. I enjoy serving our school and staff and will continue to make well informed decisions with my peer board members."
Brandon VanDonkelaar grew up in Muskegon County. He has been married to his wife, Kelli, for twelve years and they have three kids. They moved to Egelston Township in 2012 and have since become established in the area. He has worked with young people in a variety of areas for the past twenty years through church and sports. Brandon said, "I have been interested in becoming part of the school board at Oakridge for the last few years and felt that this was the time to pursue this opportunity to serve my community. I am excited to step into this role to help lead Oakridge Public Schools into the next season and beyond."
Brandon and George will serve alongside Craig Scott, Jeff Kartes, Jeff Lohman, Tammy Stolberg, and Doug DeWitte. Photos and terms are available on our website at www.oakridgeschools.org/schoolboard .
In closing, special thanks to Cheryl Harvey for her service on the school board the last six years. Despite the very close vote count, she will conclude her service on the Board at the end of December. But, she intends to stay active in the community and wishes the best to her colleagues, staff, and students.