Below is a compilation of our most frequently asked questions regarding back to school for the 2020/2021 school year.
Timeline
Oakridge Online Learning Academy (OOLA)
Q: What online platform or service provider was selected?
A: Oakridge has decided to purchase and implement Edgenuity for grades 6-12 and Accelerate Education for grades K-5 to facilitate online learning.
Q: How many families have signed up?
A: The last count was over 450 students.
Q: If I don't like OOLA once it begins, can I send my child to school instead? If not, why?
A: OOLA is a semester-long commitment. We are staffing based on OOLA sign-ups and cannot accommodate students moving at-will from OOLA to in-person.
Q: What happens to my OOLA student when the Governor changes which Phase of the MISafeStart Plan our region is in?
A: No matter our economic reopening phase, your OOLA student's education and schedule remains constant.
Safety and Sanitation

Q: Does my student have to wear a mask?
A: All preK-12 students much wear a mask on buses, in hallways, and in common areas. K-5 students are encouraged to wear masks while in classrooms, but are not required to, while 6-12 students are required to in class. No student must wear a mask while eating. Some medical exceptions will apply.
Q: How often will schools be sanitized?
A: Commonly-touched surfaces like door handles, light switches, desks, shared items, etc. will be sanitized nightly. Custodial staff has been asked to prioritize sanitation over cleanliness.
Q: Science class and other hands-on classes use large tables for small groups of students. How will that work?
A: Though desks in most classrooms will be 6 feet apart, small group rooms will position students as far apart as feasible.
Q: Rumor has it that a student in school today tested positive/had symptoms/said they had the virus/etc.
A: Oakridge is working closely with Public Health – Muskegon County. We cannot comment on the medical situation of particular students, but affected or exposed families will be notified if/when such a situation arises. Our primary goal is student safety.
Learning Models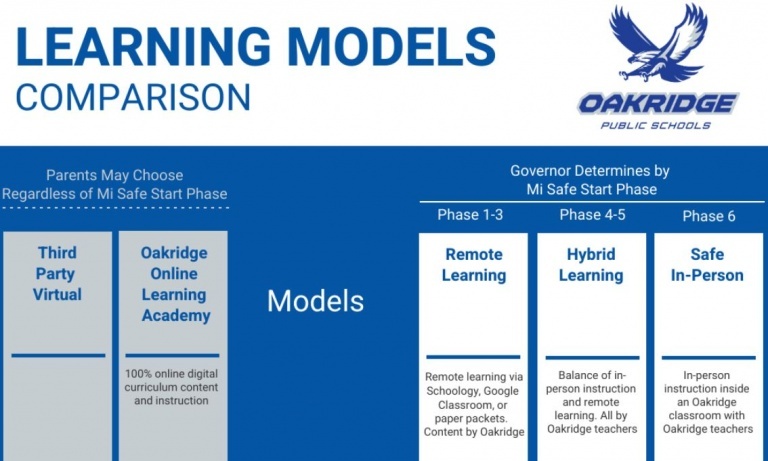 Q: Which learning model are we using?
A: Oakridge is using the Hybrid model in phases 4 and 5. Phases 1 through 3 require remote learning by order of the Governor. We are currently in phase 4.
Q: Why didn't Oakridge offer a 5 day in-person model? I know other Michigan districts that are offering this.
A: We have chosen to adhere to the Governor's "strongly recommended" safety and mitigation guidelines laid out in the MI Safe Schools Roadmap, in additional to all required measures. Due to various strongly recommended items, such as distancing, having all students in class full-time is not feasible.
Q: What is Oakridge doing about sports?
A: We are following all MHSAA safety and sanitation guidelines.
Q: Will there be Kindercamp?
A: Not in the conventional sense, but we are planning a similar event.
Q: What is "distance learning" and how is it different from the Hybrid model and OOLA?
A: Distance learning has students learning from home 100% of the time. This is controlled by the Governor and is currently mandatory in phases 1 through 3. The Hybrid model has students learning from home part of the week and in-person at school for part of the week. OOLA is entirely virtual. More info on Learn Models here.
Q: When does my Hybrid Learning Model student get their Chromebook/iPad?
A: The first day or two of school.
Q: When will we know our bus schedule/number/pick up and drop off times and locations?
A: We are aiming to release transportation information on August 28.
Q: When will I know what cohort my student is in?
A: You should have this information already; please reach out to your school if you're still missing it. Cohort calendars can be found here.