We are excited that you have begun the enrollment process. We are proud of the educational opportunities that we can offer your child. Through well-trained and motivated staff, we are seeing unprecedented growth in student achievement and you and your child are now a part of that plan for your child's success.
Enrollment Information
The school district requires proof of residency, your child's birth certificate, and immunization records upon enrollment.
The following documents are acceptable as proof of residency as long as the document contains the name of at least one parent or guardian and an address located within the school district boundaries:
Mortgage document including street address of property and purchaser(s) name(s)
Property deed including street address of property and purchaser(s) name(s)
Current tax bill
Current utility bill
Copy of current payroll check including home address
Current rental or lease agreement
Notarized* residency affidavit
Notarized* proof of residency from homeowner/renter with whom parent(s) and student resides
*Notary services are provided at every building office.
Register/Update Enrollment Info
To begin the online registration/enrollment process at Oakridge Public Schools, click on the link below corresponding to whether your student is entering Kindergarten, a returning student, or a new student to Oakridge (which includes students who left during the school year last year and are returning to Oakridge this year).
Chromebooks
All students planning on using an Oakridge Chromebook MUST have a completed Online Learning Contract and Chromebook Agreement Form on file with their school prior to being issued a Chromebook device. The Chromebook form should be mailed to you by your school, but we are providing a PDF here if you lose or do not receive yours. Please fill these out and return them to school.
Virtual School
The below graphic compares some of the differences between our virtual learning models, Oakridge in-person, and a popular third-party virtual school provider. Check out our online learning page for more info and enrollment steps.
NOTE: You must enroll through the corresponding drop-down below before signing up for online learning.
Kindergarten Students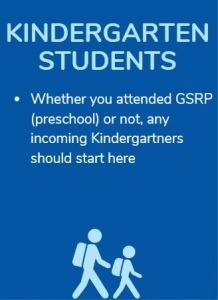 The registration process can be done online, but you will still need to provide the following documents to our school office to complete the registration process which will be collected at your Kindergarten assessment appointment (date to be determined) or when the building offices officially open for the school year:
Your child's birth certificate
Proof of Residence (tax bill, utility bill or lease agreement)
Vision screening results
Immunization records
The online registration process can be done using a desktop computer or a mobile device, but it may be easier to complete using a computer. If you do not have access to a computer or at-home internet, please contact the Lower Elementary School at (231) 788-7600 for assistance. Begin the enrollment process
New Students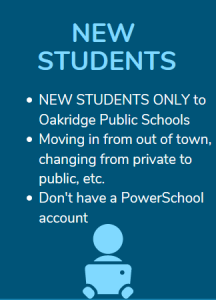 This section is for New Students to Oakridge Public Schools. If you attended Oakridge last year, please go to the "Returning Students" section.
Oakridge Public Schools uses a secure service called PowerSchool to house and manage our student information. It's through this service that you'll register/enroll your child.
The first step to registering/enrolling your student with Oakridge Public Schools is to set up your PowerSchool account. The program will walk you through the steps. Here is the link to the PowerSchool Parent Portal. If you have any questions about the process, feel free to contact us!
Returning Students
Check out this helpful PDF with instructions and this accompanying video tutorial on updating enrollment information for returning Oakridge students. You should have received an email with your PowerSchool username, which is used to reset your password if you've forgotten it. If you've forgotten your PowerSchool parent portal username, click here.
Remember to use your parent portal information from last year when signing in to PowerSchool. Click here to sign in to PowerSchool.
Questions?
Our staff will be happy to answer any questions you may have. Our offices open Monday, August 16th. Email the representative from your school building and we'll be happy to assist you.
High School/FUSION – Jen Johansen
Middle School – Chevonne Grimm
Upper Elementary – Mary Martin
Lower Elementary – Amy Latsch
School Supplies
Oakridge Public Schools will provide all the essential tools your student needs to be successful at school. If you'd like to supply your child with their own unique items (mechanical pencils, binders, notebooks, folders, backpack, etc.) you are welcome to.