Technology & Security Millage

Oakridge Public Schools is tremendously thankful to the voters of Muskegon County who approved the Technology and Security Millage on the May 2, 2023 ballot. This renewal proposal nearly doubled voter turnout to almost 22,000 voters when compared to the original 2014 election. The number of YES votes double to almost 13,000 votes, measuring in at 58% in support. Keeping this renewal taxpayer friendly, the millage rate will adjust to less than the original 1.0 mill (0.9831), while still providing about $214/pupil for every school across Muskegon County generating about $420,000 for Oakridge! We will continue to demonstrate transparency and maintain the trust of our community by publishing all investments on this web page.
THANK YOU for the community's continued support to improve student safety and technology experiences in our schools for another 10 years. We will not take this now 20 year commitment for granted!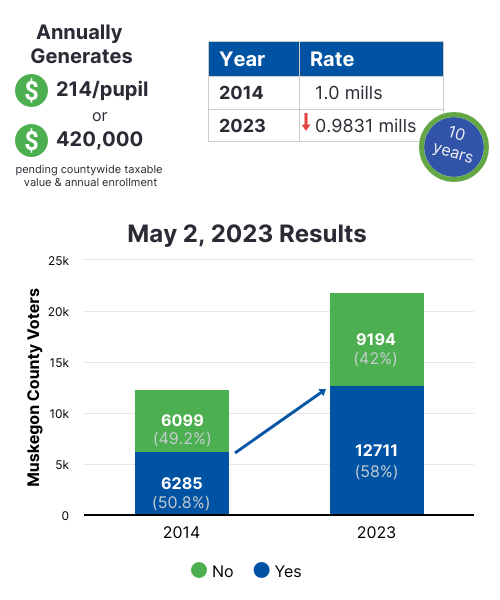 How Has Oakridge Spent Funds?
Details for how Oakridge has spent these funds since 2014 can be found in the annual accountability reports below. Here are a few highlighted areas of focus:
Security and Safety
Installed single secure points of entry for elementary and secondary buildings
Expanded key card/fob door access systems
Installed Navigate 360 school safety technology system
Expanded building surveillance cameras, replaced analog cameras with digital (ongoing efforts continue), and replaced 'back end' surveillance software
Upgraded fire alarm/monitoring system and connected to e-911 alerts
Replaced school bus routing software
Expanded parking areas on school property to reduce pedestrian road crossings
Replaced radio system/hardware to improve communication during emergency situations and daily transportation (ongoing expansion planned for buildings)
Secured school buses on school property with protection of lighting, surveillance, fencing, fob access, and asphalt for safety of drivers and buses
Replaced antiquated phone system with digital phone system that can enhance building-wide communication during emergencies and use e911 calls
Technology
Upgraded classroom/workspace technology (computers and digital presentation technology)
Provided training for teachers to facilitate digital learning environments
Maintained

Chromebook

replacement cycle for all professional staff members
Expanded Chromebooks toward a 1:1 student to device environment and maintained replacement cycle
Replaced backend software of district website to improve communication efficiencies and mobile phone compatibility and redesigned with new district branding.
Installed 100,000 ft of network cabling to accommodate increased number of devices
Upgraded network switches from 1gbps to 10gbps
Upgraded

WiFi

system to support increased number of devices with higher bandwidth needs
Expanded technology support to multi-district consortium
Installed the

Schoology

Learning Management System and maintain annual renewal subscription
Upgraded

PowerSchool

Student Information System with online registration features to improve the annual enrollment experience
Acquired digital communication technology equipment
The approved ballot language can be reviewed via this link.
Frequently Asked Questions
Frequently Asked Questions
For answers to frequently asked questions about the May 2023 renewal request, please visit the link below:
Technology & Security Enhancement Millage Accountability Reports
Quotes Across Muskegon County
"We have been blessed with the community's generosity to improve the safety and security of our schools for students and staff. The technology advancements have had significant impact to students' educational experience," said Tom Livezey, Superintendent of Oakridge Public Schools.
"As voters consider renewing this millage, I'd encourage them to read the accountability reports and see exactly how districts used these funds to upgrade security and technology," said Matt Cortez, Superintendent for Muskegon Public Schools.
"The partnerships between schools and local law enforcement have increased because of this millage," said Michael Poulin, Muskegon County Sheriff.
"The funds from the 2014 millage have allowed us to make significant investments in infrastructure that support the safety and security of our students," said Bill O'Brien, Superintendent of Mona Shores Public Schools. "According to research, digital literacy is one of the most sought-after skills for future careers. The 2014 millage has allowed us to provide students with access to technology enabling them to develop this critical competency."
By law, an Intermediate School District is the only entity able to request or renew a county-wide millage on behalf of local school districts and must distribute the money to the school districts based on student enrollment. For answers to frequently asked questions please visit: https://www.muskegonisd.org/about/techsecurity-millage/