November 28, 2022
Healthy Children! It's Happening at Oakridge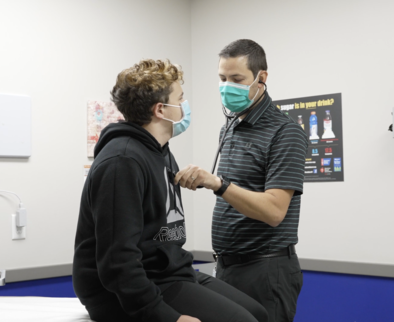 Dear Parents of Oakridge Public Schools Students,
There is a quote that states, "He who has health, has hope; and he who has hope, has everything." Our goal is to ensure that your student has good health and hope for a healthy future.
Oakridge Public Schools is proud of our health care partnership with Hackley Community Care. We partner with Hackley Community Care to provide medical, mental health and dental services to students in our district. If your student needs a primary care provider, the Oakridge Teen Health Center (OTHC) is available to help. Medical services include but are not limited to wellness check-ups, injuries, asthma care, influenza shots, common cold, COVID testing/immunizations, strep throat, and other medical related care. OTHC can serve as your student's primary medical home for all your child's health care needs. Dental services are also available and provide full dental care from cleanings, fillings, and other dental procedures. Along with these services OTHC offers Mental Health care where a master's level clinician works with individuals on various issues from anxiety and depression, to bullying and peer relationships and everything in between. It is our goal to care for the whole person when providing services.
We are conveniently located in Oakridge Middle School, outer door number 14. Students may receive care while they are at school, saving parents time and students time away from their classes. OTHC also provides care to individuals not on the middle school campus and offers services for ages 5 through 21 years of age.
Appointments can be scheduled by calling 231.733.6830 or online at www.oakridgeschools.org/healthcenter. The Oakridge Teen Health Center is accepting new patients.
Thank you so much for supporting the partnership between Oakridge Public Schools and Hackley Community Care to provide the Oakridge Teen Health Center for our students. This collaboration creates healthier students leading to better learning.